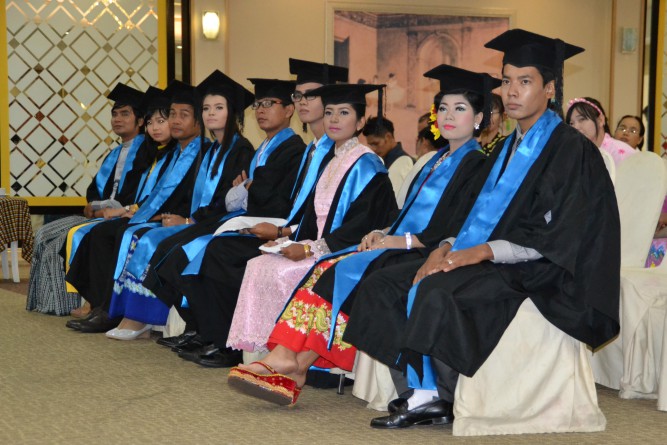 On Wednesday 27th May, 9 Burmese Migrants graduated with their Diploma in Liberal Arts through the Australian Catholic University Online Diploma Programme. It was a special celebration bringing to a total of 27 the number of future leaders supported by Marist Asia Foundation on the Thai Burma Border since 2010.
Saw Zay Yar Nay Win and Shwe Thin Zin spoke on behalf of the graduates sharing their journey to university studies. "Five years ago, we heard that Australian Catholic University (ACU) provides Online Diploma courses. We tried to figure out "What is that?" "What kind of education is that?" Our hunger for more education in our life grew from that time."
"We were so proud of the previous ACU students. We were smiling looking at them on their graduation day and imagining ourselves wearing the graduation gown. We said to ourselves that one day we will be like them. Now, we are all wearing graduation gowns."
Our lives as migrants are full of struggles. Most of us had to leave schools from Myanmar because of difficulties of survival. We had to follow our parents and come to Thailand to work.
We were extremely hunger for education despite of these difficulties. Once Allan Bloom has said, "Education is the movement from darkness to light". Our country, Myanmar is still in the darkness.  Education is the greatest weapon to change our country.
Nobel Prize Winner Malala also claimed that education is the only solution to change our world. Education can develop not only morals, thoughts and ideas, but also enhance the quality of each person's life.
In the midst of their families and friends, migrant community and Thai ministry of education officials, Marist School students performed a traditional Burmese Dance, students sang a song of support, graduating students celebrated in their own song their achievement and bond of friendship.
It was a great day acknowledging what can happen when we work together for the common good of education.
Maya Cranitch, as co-ordinator of the ACU Thai Burma Border Programme, acknowledged not only the new knowledge and skills that had been learnt over the past 15 months, but also the deep friendships that have been created through the programme and how the students had learnt to think critically and ethically for their communities.
In her special words to the graduating students, Professor Geraldine Castleton, emphasised that this program witnesses to the need for university education for refugees and migrants to be a right, not a luxury.
As more refugees stay for longer and longer periods in camps and more migrants are forced by circumstances to work in Thailand, the need to provide access to education beyond school remains a priority.
Course subjects have been designed to respond to students' needs and interests from the discipline areas of English, business management, development studies, human rights law, teaching skills, global health and environmental studies as well as photography.
What the students have learned is of direct relevance to the refugee and migrant communities on the Thai-Burma border and, indeed, the wider world.
We know from past evidence that our graduates use their qualifications for the common good – that is, for the good of others, not just themselves.
Fr Frank, their local tutor, acknolwedged the beautiful care the students had for each other as real brothers and sisters. 'Coming to class has been like enjoying time with family.' He recalled memories and examples over the past 15 months revealing such hunger to learn and hearts and minds being opened up beyond the factories and fishing industry of Ranong.
In a community where there are not many formal occasions for special celebration of educational achievement, future hopeful students look up to their role models. Proud parents look on their sons and daughters in a graduation gown reaching a goal often beyond their own reach.
Professor Geraldine summed up many thoughts and prayers in her personal words to the community.
I pray with everyone in this room that the reform that has begun in Burma will lead to a democracy where all the ethnic groups are respected and honoured, where the vote controls the future, and where all the children of Burma will have an education that sets their minds free that sets their minds free and provides them with opportunities to achieve their goals.
The young people who graduate today are a powerful symbol of the new Burma rising from the ashes of the old.
On behalf of all the graduates, Zay Yar Nay Win shared their thanks especially to ACU and Marist Asia Foundation.
"Your help benefits many people in the Burmese migrant community and the country of Myanmar. I believe your partnership providing education for migrants is the most important weapon to change our migrants lives. We will share the education we have received to future generations and communities within Thailand and Myanmar. We all have a great dream to help our communities."